About Host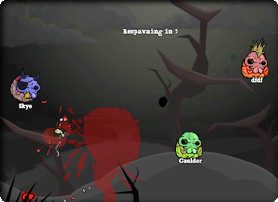 You might also like:
HOST is a Diverge.ws production featuring art by Edmund McMillen of 'Gish' fame and programming by Caulder Bradford, and is Multiplayer powered by
MMOcha Server
.
Step into the role of the parasite, and struggle to survive against your fellow organ-stealing abominations in this online multiplayer match-up. Customize your own maggot-ridden monstrosity to create a one-of-a-kind, vomit-inducing persona. Then, climb your way to the top of the food chain.
Did you remember to sign your donor card?