About Battle Gear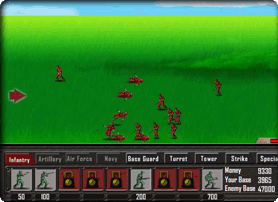 You might also like:
Rewrite history and conquer the world with either the USA, Russia or China.

Earn Experience to unlock new units, or power up your existing ones. Spend cash to deploy new units, but spend wisely or your enemy may win the war of numbers.

Outflank on the ground, soar through the skies, maneuver your seafaring vessels... or just blast him to hell with a strategic missle! You are in command, general!